Carroll's Cabinet Makers Photos
Click on the photos for a larger view...
Arts and Crafts Rocker.
Ash and Sapele Hall Table.
Mahogany and Ash Hat Stand.
Mahogany and Ash Hall Table.
Sapele Box.
Sapele Box - open.
Solid Oak-panelled gate.
Solid Oak two tier counter.
This kitchen was designed by an architect for a customer, build and hand painted, with oak worktops and splash backs. Hand built solid pine carcases.
This unit was designed to fit the available space and is part of a fitted suite all of matching design.
This fitted wardrobe is typical of made to measure furniture and can be constructed as part of a full matching range which can feature throughout the house.
This gorgeous unit was especially designed to enhance the kitchen, with free standing wine racks and glass display above.
The cupboards below hide the dishwasher, washing machine and tumble dryer. Hand painted exterior finish to contrast with clear lacquered oak interior and worktop shelf.
This bookcase is part of a retail display range made to customers own requirements and designed using lovely mahogany.
Large Bedside Cabinet in Oak. One of our favourite timbers, bespoke oak bedroom furniture: bed, wardrobe and bedside cabinets can be made to match this unit.
The use of maple gives this modern TV unit a clean and simple look, making good use of the available space.
Used daily this fitted maple unit sets off the restaurant bar, allowing staff easy access to table ware etc.
This fully glazed display cabinet is hand made specifically to take the client retail display items.
Beautiful mahogany bespoke glass fronted cabinet with ash veneered interiors panels to help lighten the display with glass shelving and spot lighting; this is part of a full shop display.
Lovely oak - this is a part of a full bedroom suite made to customers own design and size.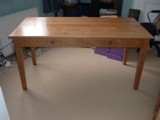 Traditional shaker style hand-made desk.
A full range of made to measure kitchen cabinets are available. Full design and fitting are our speciality and can be made in many finishes.
Part of a full oak bedroom range and made to order.
This shaker style corner unit in ash was made to measure and finishes this dinning room off with flair and fully matching the dinning room suite.
This MDF wall panel looks authentic in a Georgian period style. It completely matches the original Georgian panel and was to be hand-finished by our customer.
This is just one of the many private bars, made to measure specifically for their home.
This bar is fitted to a restaurant giving an ambient and modern look but with a practical finish.
This bar can be at home as a commercial bar or simply at home.
This bar and server was commissioned by a local Indian restaurant. The light maple finish gives ambience and a contemporary look to this busy eatery.
This was a one-off design as a comfortable nursery chair.
Made from solid mahogany, small but well designed in traditional style, to keep all the jewellery in one place. This is a good example of the hand-made cabinet work that we can offer.
Solid ash extending to seat 12 dining table in the shaker style with matching ash chairs. Wall units and sideboard can be added.
Pair of matching solid oak bookcases made to customer's design and finished in Danish oil.
Ash sideboard made in the shaker style to match the dining room table and chairs.